BD-Power Exhaust Brake TapShifter - 6.0 Power Stroke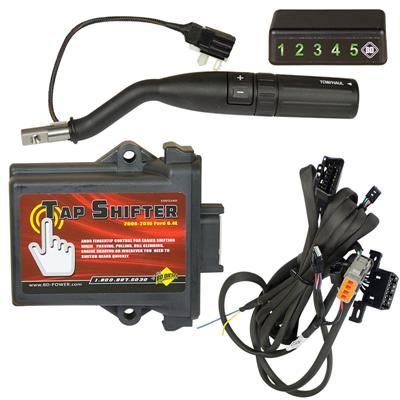 BD-Power Exhaust Brake TapShifter - 6.0 Power Stroke
The BD-Power 1031369 Exhaust Brake & Tap Shifter for your 2003-2007 Ford 6.0L Power Stroke is an excellent upgrade to help the functionality of your truck. While your Ford Super Duty has a 5-speed transmission, it doesn't offer you a complete range of gear selections. You only get P-R-N-D-3-2-1. The BD-Power TapShifter allows you to gain full control of the transmission in your truck with the supplied components. Using a high quality Ford OE shift lever, the BD-Power Tap Shifter kit enables you to control your transmission with just the push of a button. 
Not only does the Tap Shifter give you full function of your transmission, it also includes a built-in electronic Variable Vane Exhaust Brake. The variable vane design used in modern diesels reduces turbo lag, emissions, and increases power. It can also be used to slow you down. BD-Power uses the variable vane technology by electronically closing off the turbine vanes which creates retarding horsepower. This braking force will help to maintain your speeds on descents and curves, giving you better control of your truck and load. 
FEATURES:
Access All 5 Gears
Control Lock-Up For Dyno Testing 
Great For Stock Or Modified Applications 
Built-In High Pressure Variable Vane Exhaust Brake 
For Use On F-250/F-350 Models

This kit is not intended for E-series vans or on gasoline engine applications.
Excursions have exhibited some compatibility issues and are not recommended.
Reviews
Featured Products