Flo~Pro Twister Muffler - 5in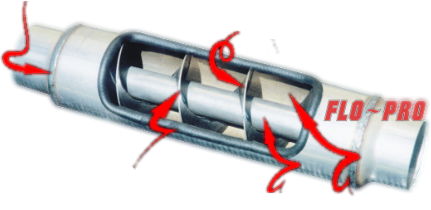 Flo~Pro Twister Muffler - 5in
Flo~Pro Twister Muffler 5"in x 5"out -
17" - 12"
Welded construction for strength & durability.
Continuous spiral design minimizes turbulance for greater flow which increases HP over other spiral baffle designs.
Spiral design is less restrictive than glass packed designs.
Dual flow path cancels noise and creates a vacuum effect that accelerates the exhaust through the muffler.
NOTE: This product CAN NOT ship to California due to CARB regulations.
R
ace Muffler That Fits In Tight Places Reduces Noise To Meet Most Track Requirements Works as a Resonator on Noisy Diesel Applications Insignificant Loss Of Horsepower From Open Headers Great Fit For Street-Legal High Performance Vehicles Availiable in 2.25" - 5" inlets.
Reviews
Featured Products