H&S Motorsports Ford 11-16 6.7 Intercooler Pipe Upgrade Kit (OEM Replacement)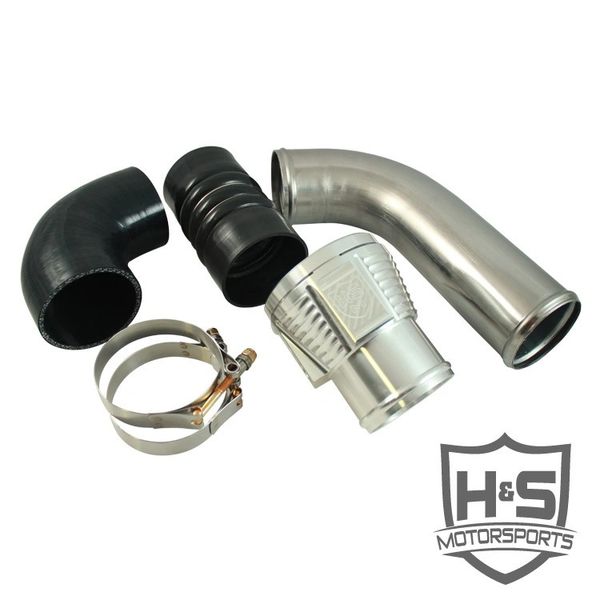 H&S Motorsports Ford 11-16 6.7 Intercooler Pipe Upgrade Kit (OEM Replacement)
The H&S Motorsports Intercooler Pipe Upgrade for your 2011-2016 Ford 6.7L Power Stroke allows you to replace the factory plastic intercooler pipe on your truck with a stainless steel, bead rolled pipe. The factory installed plastic intercooler pipe is known to literally burst at the worst possible times leaving you stranded on the side of the road. This easy upgrade improves reliability and underhood looks while eliminating the common failure part.
While that may seem simple, there are other crucial components included in the kit to allow a quick, easy installation. Since the OEM pipe snaps onto the factory air intake valve rather than using a traditional clamp, H&S Motorsports includes a beautiful CNC-machined aluminum adapter piece that snaps into the OEM location. Also included with the kit are all the brackets, clamps, and hardware required to complete the installation quickly and painlessly. Because this is a factory replacement, there is no aftermarket tuning required.
FEATURES:
Increased Reliability
Bolt-In Replacement
High Quality Stainless Steel Pipe
Aftermarket Tuning Not Required
Kit Includes:
1 HSM Throttle Body Adapter Assembly, 1 Stainless Steel Tube, 1 90-Deg. Silicone Boot, 1-Pack Installation Hardware.
Reviews
Featured Products