KC Turbos Stage 2R Dual Ball Bearing VGT Turbo - 6.0 Power Stroke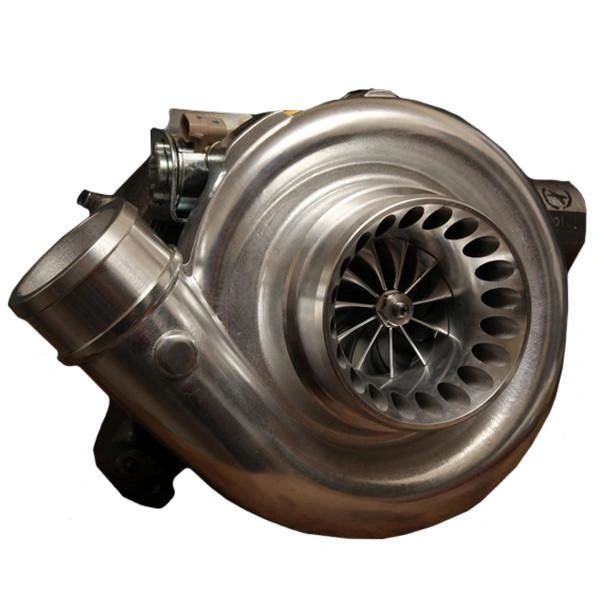 KC Turbos Stage 2R Dual Ball Bearing VGT Turbo - 6.0 Power Stroke
Are you ready for the for the fastest spooling, most powerful stage 2 turbo on the market?  We have spent years developing and testing our new KC stage 2r turbo and it is finally for sale on the open market.
This is a real game changer for the 6.0 world.  A dual ball bearing stage 2 vgt turbo that is a 100% drop in application and is guaranteed to spool faster and make more power than any other stage 2 turbo on the market.
This turbo works great on stock injectors, but is capable of 600-650hp with larger injectors and supporting mods.  It has great street manners and will make your truck feel lighter and more fun to drive.  We highly recommend 190/30 injectors to pair with this turbo.
The stage 2r is also great for towing in any application.  You really can have your cake and eat it too with this turbo.
We highly recommend Custom SCT tuning to go with your turbo.  Send us an email if you would like more info on where you can purchase custom tunes.
Shipping Policy: Many of our products are made to order so we do our best to ship within 48 business hours of receiving payment for your purchase.  We will notify you if there is going to be some sort of delay. 

Warranty: All KC Turbo brand products have a 1 year warranty. The warranty covers any damages done during shipping, prior to installation, and if all installation steps were followed. If damage is done due to improper care of the purchaser's vehicle, warranty is void.  Warranty's are non-transferable and are only offered to the original purchaser.
**Polished covers require a 1-2 week lead time.**
NO ETA
Reviews
Featured Products