KC Turbos Stage 3 VGT Turbo - 6.0 Power Stroke
KC Turbos Stage 3 VGT Turbo - 6.0 Power Stroke
This is the Turbo for you if you want to be able to daily drive your truck during the week and race in competitions on the weekends. The stage 3 turbo is a MONSTER and will run great on the dyno and the track, with great drive ability around town. We do not recommend this turbo for those looking to tow heavy loads, that does not mean tow but this turbo is better suited for making power rather than towing heavy loads.
Specs: 68x94mm single plane billet wheel with extended tips to 100mm, Upgraded .72ar race compressor cover with drilled hole anti-surge ring for maximum air flow, 74x70 gt42 10 blade turbine wheel (biggest and strongest turbine wheel on the market), new high flowing vanes, upgraded unison ring, and upgraded 360 thrust bearing. 100% drop in (no modifications required). Turbo is brand new, requires no core, and comes with a new VGT solenoid.
Turbo is not recommended for stock injectors.  This turbo pairs best with 190/30, 190/75, or 205/75 injectors.  Good for around 600-700hp with supporting mods.
We highly recommend Custom SCT tuning to go with your turbo.  Send us an email if you would like more info on where you can purchase custom tunes.

Shipping Policy: Many of our products are made to order so we do our best to ship within 48 business hours of receiving payment for your purchase.  We will notify you if there is going to be some sort of delay. 

Warranty: All KC Turbo brand products have a 1 year warranty. The warranty covers any damages done during shipping, prior to installation, and if all installation steps were followed. If damage is done due to improper care of the purchaser's vehicle, warranty is void.  Warranty's are non-transferable and are only offered to the original purchaser.
**Polished covers require a 1-2 week lead time.**

Reviews
Featured Products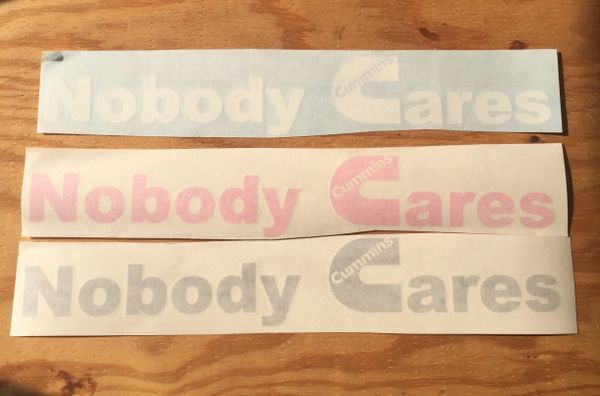 Nobody Cares Decal