MPD Stage 1 6R140 Transmission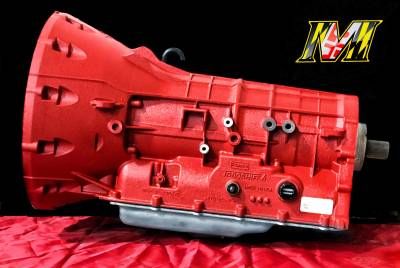 MPD Stage 1 6R140 Transmission
2011 - 2019 6.7L POWER STROKE 6R140 STAGE 1 TRANSMISSION
MPD has spent the last several years Developing, Testing, and Racing to provide you with the best performing products the market has to offer. We have designed and tested many different combinations during our testing and development of the stage 1 and stage 2 6r140 transmission series. We are constantly testing and designing parts still to this day to ensure you the best performing and last transmission on the market. Every transmission we received is torn down and inspected and goes through our state of the art ultrasonic cleaning tank before the rebuilding process. 
SUPERIOR FEATURES :
RATED UP TO 750HP HEAVY TOW / STREET
BRAND NEW FOMOCO PUMP IN EVERY BUILD
BRAND NEW FOMOCO VALVEBODY MATCHED TO YOUR VIN #
BRAND NEW FOMOCO SPEED SENSORS
BRAND NEW FOMOCO WIRING HARNESS
BRAND NEW FOMOCO SEAL KIT USED ON EVERY TRANSMISSION
TIG WELDED INPUT SHAFT TO HUB
BILLET OVERDRIVE PISTON
HIGHER COUNT RAYBESTOS FRICTIONS IN EVERY DRUM
HIGHER COUNT RAYBESTOS STEELS IN EVERY DRUM
ALL PRESSURE PLATES ARE REGROUND TO PERFECTLY FLAT
MPD SPEC'D CLEARANCE IN ALL CLUTCH PACKS
BRAND NEW FOMOCO COOLER INCLUDED WITH EVERY TRANSMISSION
BRAND NEW FOMOCO PAN
BRAND NEW FILTER AND GASKET
3 YEAR WARRANTY
!!! IMPORTANT !!! Product Information
TCM MUST BE REFLASHED WITH FORD IDS WITH NEW VLAVEBODY CODES PROVIDED BEFORE DRIVING
TRANSMISSION MUST BE SET IN LEARNING MODE BEFORE DRIVING
500 MILES BREAK-IN RECOMMENDED 
MUST USE MOTORCRAFT LV FLUID OR COMPARABLE QUALITY FLUID
CORE MUST BE SCHEDULED FOR RETURN 30 DAYS FROM RECEIVING
CORES ARE ONLY ACCEPTABLE COMPLETE NOT TAKING PART
CORES MUST BE CRACK FREE AND NO HOLES FOR FULL REFUND
MPD IS NOT RESPONSIBLE FOR PROVIDING NOR SOURCING POTENTIAL ECM CALIBRATIONS NEEDED
!!! SHIPPING METHOD !!!
BUILD TIME IS NORMALLY 5-7 BUSINESS DAYS SOMETIMES QUICKER
IF AN EMERGENCY PLEASE CALL TO PLACE ORDER TO VERIFY STOCK
TRANSMISSION ARE NOT RETURNABLE OR REFUNDABLE 
WE CHARGE SHIPPING BOTH WAYS UP FRONT FLAT RATE OF $700
!!! WARRANTY !!!
ALL TRANSMISSION COME WITH A 3 YEAR WARRANTY FROM DATE OF INSTALL
YEAR 1 MPD COVERS LABOR TO R&R, SHIPPING AND REBUILD OF TRANS
YEAR 2 MPD COVERS SHIPPING AND REBUILD OF TRANSMISSION
YEAR 3 MPD ONLY COVER REBUILD OF TRANSMISSION
ANY WATER DAMAGE IS NOT COVERED AND WILL VOID WARRANTY
EXTREME OVERHEATING WILL VOID WARRANTY
LACK OF MAINTENANCE EVERY 25,000 MILES WILL VOID WARRANTY RECORD MUST BE KEEP
BROKEN SHAFTS OR HARD PARTS ARE NOT COVERED BY MPD AS WE DO NOT MANUFACTURE THOSE PARTS. IF THIS OCCURS MPD WILL REQUIRE YOU TO ONLY PAY FOR SAID BROKEN PART NOT FULL REBUILD
PROOF OF INSTALL AND PAPER WORK MUST BE SUBMITTED DAY OF INSTALL
MPD WILL NOT COVER INSTALL RELATED ISSUES SUCH PUMP FAILURE DUE TO CONVERTER MISALIGNMENT 
NEW TC MUST BE INSTALLED WITH TRANSMISSION 
WARRANTIES ARE NON TRANSFERABLE 
Reviews
Featured Products