No Limit 6.7 Power Stroke EGR Upgrade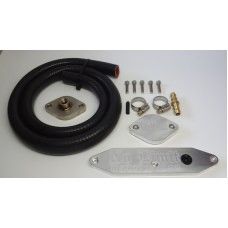 No Limit 6.7 Power Stroke EGR Upgrade
This 100% American made kit uses only Billett and Stainless plates to block the 6.7 Power Stroke EGR system. It uses a high temp hose to connect the high and low cooling sytems together yielding 3-5 degrees in coolant temp drops from stock. This kit includes everything necessary to successfully remove the complete cooler assembly. Works with all EGT Probes. This is the only kit on the market offering options for both. Please note this is one of the few kits actually made in America on the market.
* Optional Pass Through Plate *
This pass thru plate allows connection of the coolant systems that currently no other major manufacturers offer. With a 3/4 " path , there is no restriction , and can aid in slightly lower coolant temperatures.
Reviews
Featured Products