S&B Cold Side Intercooler Pipe - 11-16 6.7 Power Stroke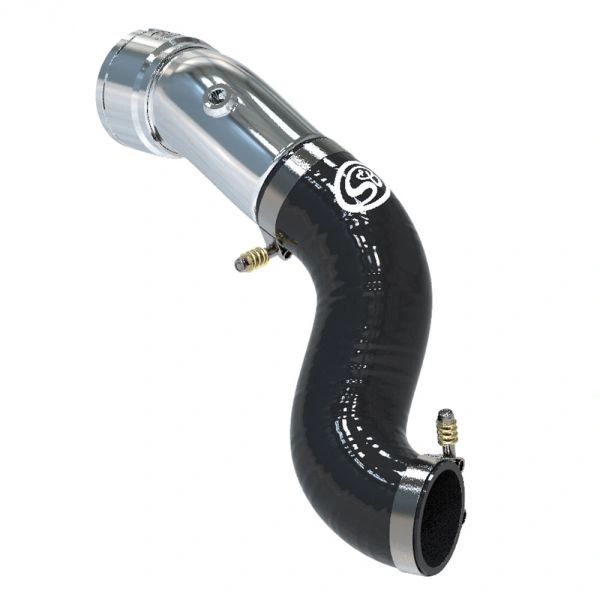 S&B Cold Side Intercooler Pipe - 11-16 6.7 Power Stroke
The S&B Filters 83-1000 Cold Side Intercooler Pipe is upgraded replacement for the burst or leaking intercooler tube in your 2011-2016 Ford 6.7L Power Stroke. The 3.50" diameter polished aluminum intercooler pipe is larger and less restrictive than the factory pipe. Less restriction means greater airflow, and improved airflow means better performance. 
The S&B Cold Side Intercooler Pipe replaces the failure prone factory intercooler pipe that is known to fail, leaving you stranded.
The 3.50" diameter larger-than-stock polished aluminum intercooler pipe offers improved airflow. Greater airflow equals increased performance.
BETTER, STRONGER MATERIAL.
The 5-Ply Aramid Reinforced Silicone Hose is not only built to last but it is much stronger than the stock hose. Featuring heavy-duty 3/4" wide stainless-steel spring-loaded T-Bolt clamps and bridge.
DESIGNED FOR EASY INSTALLATION.
The silicone hose and two-piece intercooler pipe design makes for an easy installation. Check out the step by step installation video above.
FEATURES:
CNC-Machined Aluminum
5-Ply Aramid Reinforced Silicone Hose
3/4" Wide Stainless-Steel Spring-Loaded T-Bolt Clamps
Not available for sale in the state of California.
Reviews
Featured Products