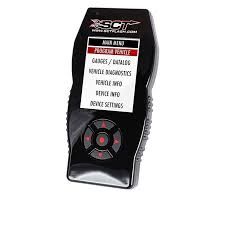 SCT X4 Programmer
The X4 Performance Programmer connects high-performance tunes to your vehicle for a boost in horsepower & torque. Awaken your engine to its real potential with preloaded, dyno-proven tune files through the easy-to-use functionality. Modify a variety of parameters at the touch of a button, all while monitoring gauges on a customizable display.

FEATURES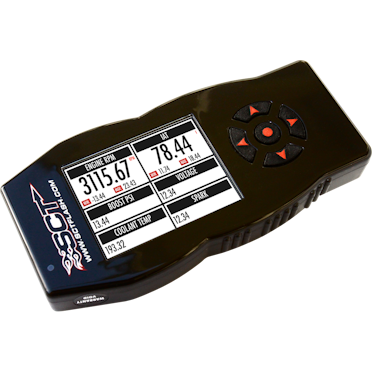 VEHICLE DATA OVERLOAD.
With a HUGE Backlit display, the SCT X4 Power Flash makes it EASY to read the Real Time Vehicle Data, view popular sensor data such as EGT, Air / Fuel Ratio or any other 0-5 Volt source!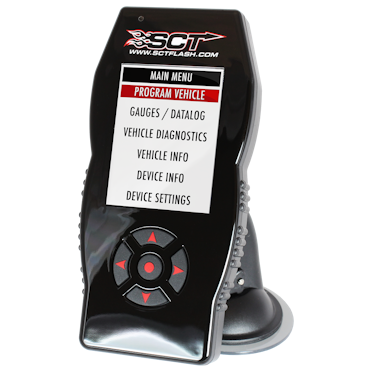 Big Power. Small Package
The X4 Power Flash arrives Pre-Loaded with DYNO Proven tune files that INCREASE HORSEPOWER and TORQUE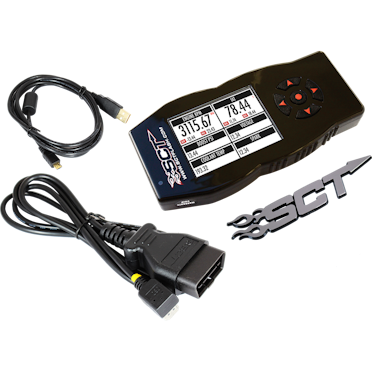 Custom Tunes. Lots of them.
Stores up to 10 custom tune files created by your local SCT Custom Tuning Dealer.
Built-In Wifi for easy updates

Built-in Wifi allows you to easily attach to your local area wireless network to download device updates.

Clearing DTCs

Reads & Clears PCM Diagnostic Trouble Codes.

Data Logging

Need to monitor your vehicle's engine parameters? No need for a separate monitoring device. View & record your vehicle's PCM data on the device or on a PC.

Dual Analog Inputs

Monitor EGT temps, air-fuel ratio and other popular sensor data.

Easy Restoration Back to Stock

The device backs up your factory PCM program during installation should you ever need to return your vehicle to the stock program. Restoring your vehicle to the stock PCM program is as easy as selecting "Return to Stock" from the device men...

Full Color Backlit LCD Display

Full Color LCD display for easy viewing, day or night.

Holds up to 10 Custom Tunes

Holds up to 10 custom tuning files for Maximum tune flexibility.

Increases Horsepower & Torque!

Increases your vehicles Horsepower, Torque, Throttle Response and even Fuel Mileage

Installs Quickly & Easily

Installs quickly & easily via your vehicle's OBDII port.

Most Popular Vehicles Supported

Most popular Ford vehicles supported including 2014 models.

Stores 20 Custom Tunes

Stores up to 20 custom tune files created by your local SCT Custom Tuning Dealer.

USB Interface Cable Included

USB Interface Cable & Livelink Datalogging software included

User Adjustable Vehicle Parameters

Adjust for common performance bolt-ons such as Cold Air Kits, Exhaust Systems & Gears
WHAT YOU CAN ADJUST
Adjustable Options vary for each vehicle and are not available on all vehicles
Auto Start/Stop

Disable auto start/stop.

Axle Ratio

Correct the vehicle speedometer (and fuel efficiency calculations) if you have changed the gear ratio on your vehicle. If no gear ration modifications have been made to the vehicle, then choose the stock setting when the tuner prompts you to choose a gear ratio. This will ensure that no modifications are made to the stock program.

CMCV Delete

Allows you to disable the CMCV (Charge Motion Control Valve) in your vehicles PCM to prevent a Check Engine light and other issues associated with removing the CMCV plates in your vehicle.

Disable DOD

Allows you to disable / enable the Displacement On Demand functions of your vehicles PCM.

Exhaust Y Pipe

Support for Kooks High Flow Y Pipes

Fan Control

Lowers the Temperature at which the Fan turns on.

Front Mounted Intercooler

Adjusts for the usage of a front mounted intercooler

Fuel Injectors

Allows you to adjust for different sized fuel injectors.

Global Spark

Allows addition or removal of timing across all RPM ranges

Grill Shutter

Adjusts calibration to compensate for removal of Grill Shutter

Headers

Allows adjustment for Longtube headers

Idle Adjust

Enable and select a value for Engine Idle position. This is a great feature for keeping voltage in the vehicle up while running auxiliary electronics off of the vehicle's power system.

Intake Airbox

Allows an aftermarket intake to be run on the vehicle without a Check Engine Light. For Intake Kits that require tuning, this will provide a selection of available intake kits.

Jake Brake

Used as an exhaust brake to increase engine braking while coasting towing heavier loads. Helps lower brake temperatures.

Lock in 1-2-3

Locks the converter in 1st, 2nd and 3rd. Aids in engine braking, increases fuel economy, and can be used for drag racing as well.

Locked At CT

Keeps the torque converter locked during deceleration to aid in engine braking. This is less aggressive than the Jake Brake file so it may be ideal for smaller loads. It can be used in conjunction with the Jake Brake as well.

Mass Air Meter (MAF)

Allows you to select from different aftermarket MAF (Mass Air Meters).

Multiple Displacement System (MDS)

Enabling the MDS (Multiple Displacement System) initiates a fuel saving 4-cylinder engine mode and disables additional engine cylinders.

Pedal Response

RPM Based Spark

Allows you to Add or Remove Timing by RPM Range. (0-2000)(2000-4000)(4000-8000)

Rev Limiter

Regulate the highest RPM that an engine can reach before the engine is electronically limited. Increasing the RPM limit is recommended only for racing purposes. One of the most important ways to protect your engine from damage is to keep the RPMs from going too high.

Shift Assist

Sound Symposer

Enable and Disable The Sound Symposer

Speed Limiter

Change the top speed that the vehicle will reach before the engine automatically limits the power needed to go faster.

Super Charger Pulley

Supports aftermarket super charger pulley sizes.

TPMS

Change or disable the Tire Pressure Monitoring System.

Take Off Assist

Throttle Body

Compensates for aftermarket Throttle Bodies (BBK 65/85/90 MM)

Tire Size

Correct the speedometer if you have changed your tire size from stock.

Torque Reduction

Reduce torque durning shifting (makes shift more firm)

Traction Control

Allows you to disable the vehicles Traction Control without using the button in the vehicle.

Transmission Shift Firmness

Change the shift firmness of an automatic transmission.

Transmission Shift Points

Change the RPMs at which an automatic transmission will change gears.




WE DO NOT SELL EMISSIONS OFF TUNING

Reviews
Featured Products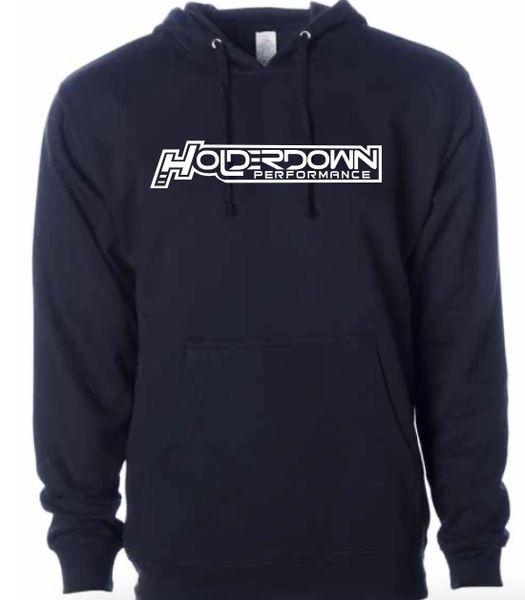 Holderdown Performance Hoodie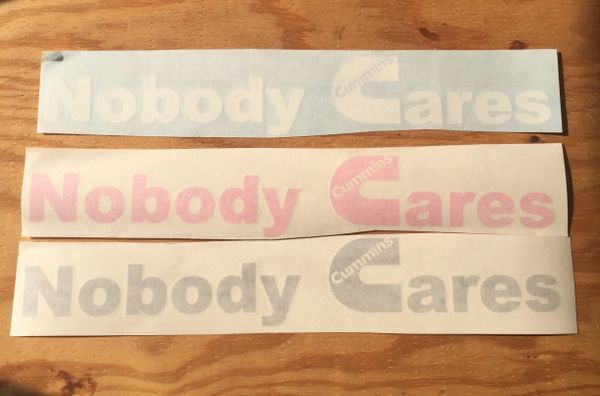 Nobody Cares Decal