SCT/Bully Dog BDX Performance Programmer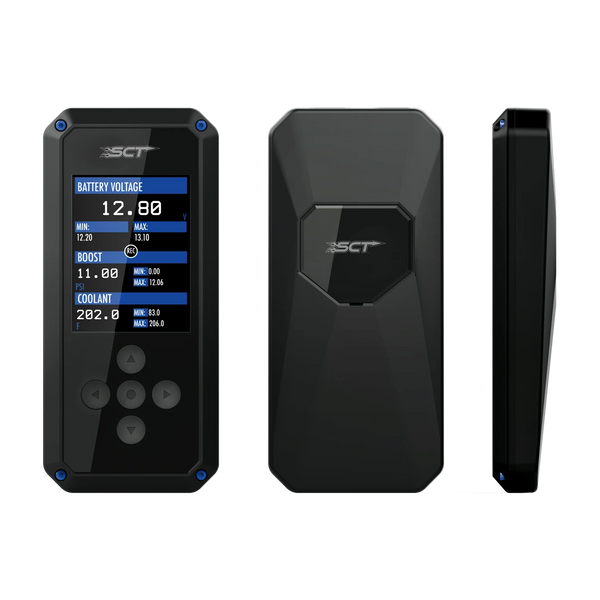 SCT/Bully Dog BDX Performance Programmer
SCT/Bully Dog's BDX handheld performance tuner is specially designed so you always have the edge you need to tackle tough terrain or pull a heavy payload. This sleek hand held combines flash and con convenience with the ability to download the latest product updates via the cloud. BDX'sbuilt-in WiFi keeps you current on groundbreaking new features,enabling you to run their most advanced dyno-proven calibrations, as well as the latest firmware, and up to 10 cutting edge custom tunes.
*NOTE: 2013+ Ram Cummins require Unlock Cable, available from below.
Track and adjust performance in style, with an easy-to-use push button interface, on screen virtual gauges, and a full color display. BDX is built to adapt to your changing needs, so you can rely on your vehicle to reach down for the added horsepower and torque it needs to conquer any challenge.
FEATURES:
Sleek design with an easy to use push button interface
Built-in WiFi for calibration and firmware updates via the cloud
Wide range of applications for gas and diesel vehicles all in one device
Monitor key vehicle data on full-color, on-screen virtual gauges
Flash-and-go convenience from a stylish handheld device
Data logging and monitoring of critical engine parameters
The ability to read and clear DTC codes
Storage space for up to 10 tunes from custom tuning dealer
COMPLETE LIST OF APPLICATIONS:
2010-2021 Dodge Ram 2500 Cummins (2013-2021 Requires Unlock Cable)
2003-2019 (6.0-6.4-6.7) Ford Power Stroke
2018 Ford F-150 3.0L Power Stroke
2006-2010 6.6L GM Duramax
2010-2016 Jeep Wrangler
2011-2017 F-150 5.0L
2011-2017 F-150 3.5L ECO
2015-2016 F-150 2.7L ECO
2015-2016 F-150 3.5L
2011-2016 Ford Super Duty 6.2L
2007-2016 Dodge Ram 1500 5.7L
1999-2013 Chevrolet Silverado 1500 4.8L
2013 Chevrolet Silverado 1500 5.3L
2014-2016 Chevrolet Silverado 1500 5.3L
2016 Chevrolet Silverado 6.2L
2010-2015 Toyota Tundra 5.7L
2011-2014 Ford Mustang GT 5.0L
2015-2016 Ford Mustang GT 5.0L
2015-2016 Ford Mustang 3.7L
2015-2016 Ford Mustang 2.3L ECO
Reviews
Featured Products