Wagler Steel Connecting Rod - 6.7 Power Stroke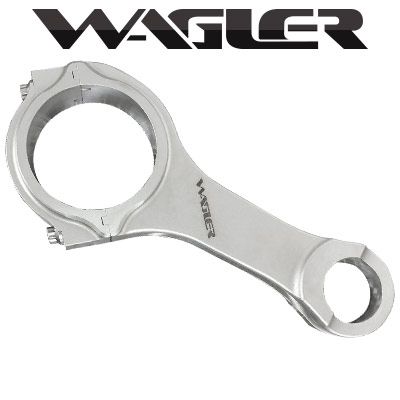 Wagler Steel Connecting Rod - 6.7 Power Stroke
Wagler Competition Products proudly presents their updated standard length 6.7L Power Stroke connecting rods.
100% Made in the USA.
Forged by Trenton Forging in Trenton, MI 48183.
Forging made from 4340ACQ certified material.
All drafting, design, programming, machining, assembly, and QA performed in-house by qualified and experienced personnel.
All CRF6.7 connecting rods are an H-beam design and utilize factory replacement bearings.
WCP integrated a State-of-Art Tongue & Groove w/locator design, keeping the end user in mind to align and lock cap to eliminate offset caps and maintain a true bore.
All rods are honed to factory specifications and produced to fit factory pistons with no clearancing required.
All CRF6.7 connecting rods come standard with ARP L19 3/8" Fasteners.
The updated H-Beam is designed to handle greater horsepower and torque than previous version. Enhanced by adding beam thickness, adding strengthening ribs, 3D profiling, and larger radiuses to reduce stress risers.
Known to handle 1750+ HP.
All sets balanced to a +/- 1 gram standard.
Standard finish is Shot Peened with the option of polished (Additional Charge).
Reviews
Featured Products