WDI 190cc Conventional Injectors - 6.0 Power Stoke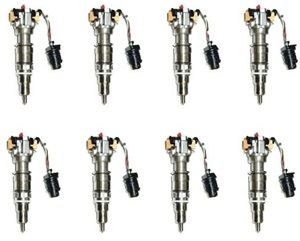 WDI 190cc Conventional Injectors - 6.0 Power Stoke
These injectors are capable of 600 RWHP. They pair well with a stage 2 or bigger VGT charger and do very well with most S300 SX-E turbos like a 364.5 or 366. You will still be able to tow with these injectors with proper tuning. With these injectors you will have to run custom tuning t get them to idle properly and to maximize the potential of the injectors. These injectors will require aftermarket lift pump and regulated return to ensure the proper fuel is supplied to the injectors.
We remanufacture all internal mating surfaces, inspect all pieces of the injector, replace defective parts and test each solenoid. Every o-ring in and on the injector is replaced. Every injector we remanufacture is flow tested on our in house flow bench. Each injector has 4 tests that it has to pass before being shipped out to you.
Spool Valves Options:
OEM – Reconditioned OEM spool valve with tested used wires 6 month warranty.
New – New WDI spool valve with tested used wires 1 year warranty
Premium - New WDI spool valve & solenoid 2 year warranty
Due to high volume of 6.0 injector orders these will not ship til about 2 weeks if we do not have in stock.
Send cores to address below with order number please
Holderdown Performance
619 2nd St
Paris, KY 40361
Reviews
Featured Products