WDI 7mm Hybrid Injectors - 6.0 Power Stoke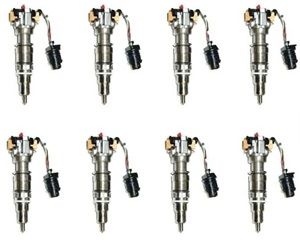 WDI 7mm Hybrid Injectors - 6.0 Power Stoke
7mm Hybrid Injectors are available from 225CC up to 430CC in 100 & 150% nozzles. If you require other nozzles please call. 250CC 7mm injectors are the largest you can run on stock HPOP. All 7mm injectors require full fuel system, custom tuning and a studded motor.
We remanufacture all internal mating surfaces, inspect all pieces of the injector, replace defective parts and test each solenoid. Every o-ring in and on the injector is replaced. Every injector we remanufacture is flow tested on our in house flow bench. Each injector has 4 tests that it has to pass before being shipped out to you.
Our  new spool valves are superior to OEM because we use a higher quality steel made to our specific guidelines. They ensure a quiet smooth idle, great cold starts, and outstanding reliability.
These injectors are capable of around 750RWHP with supporting mods. A BorgWarner S300 SX-E turbo like a 66/73 and most s400s would be our turbo recommendations.

Due to high volume of 6.0 injector orders these will not ship til about 2 weeks if we do not have in stock.
Send cores to address below with order number please
Holderdown Performance
619 2nd St
Paris, KY 40361
Reviews
Featured Products